Allgemein
10 Must-Haves for Hiking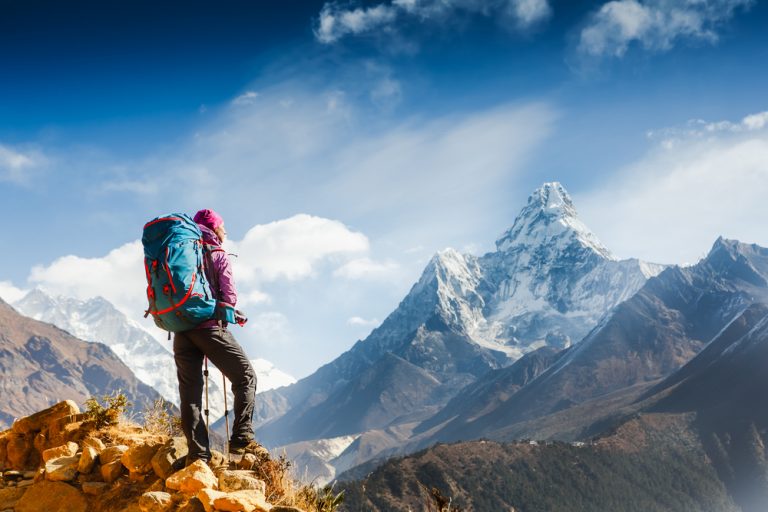 In our highly digital world, it's nice to occasionally disconnect from modern technology and head to the great outdoors. But if you're planning a hike in the near future, you'll want to make sure you're prepared for all that Mother Nature may throw at you, including the weather. Whether it is windy, rainy or sunny, when you go outside, it is always good to be prepared for rapidly changing weather conditions, especially if you're hiking in mountainous regions.
Good clothing
If you go hiking in the mountains, one of the most important must-haves is proper clothing for both cold and warm weather, as temperatures can fluctuate wildly throughout the day depending where you are. In fact, temperatures can drop/warm as much as 3°C/300 meters (5°F/1000 feet) of elevation you go up/down. For cold weather, make sure to have plenty of protection around your feet by wearing thermal socks. Also take a couple extra pairs of socks with you in case your feet get wet. Also, don't forget a good winter hat. We lose most of our body heat from our head, so it's important to have something that can cover it up when it gets chilly. Additional clothing to have would be gloves, and extra layers that you can add or take off as the temperature goes down or up, respectively.
Good boots
Good outdoor boots or shoes suited to the terrain are very important for hiking. These boots should cover a decent part of your ankle or calf, resist melting snow and provide enough traction. They should also be comfortable and waterproof. You can also pack sandals in case you have to pass a river or for a comfortable trip home, but you should not wear them during the actual hike.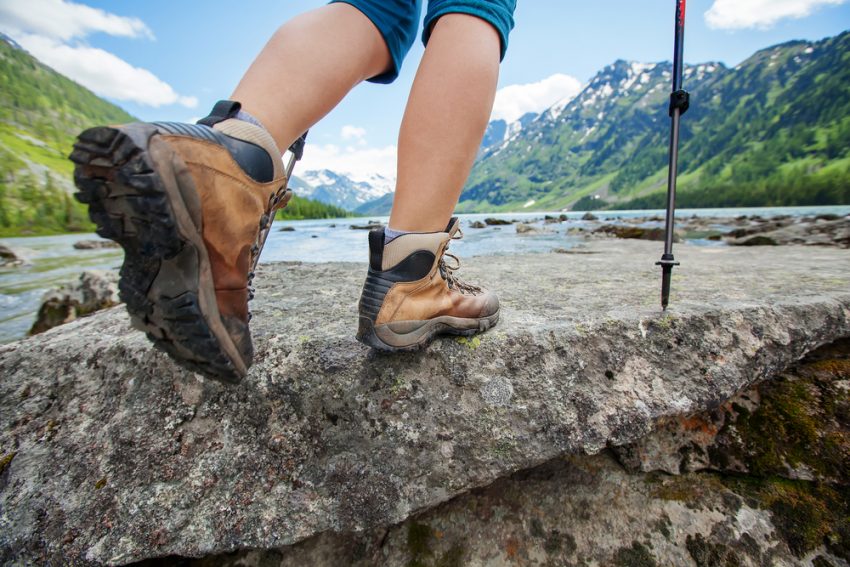 Waterproof jacket
A good quality waterproof jacket is indispensable for hiking, especially when the weather will be wet and blustery. You could also take an umbrella, but this might be not the best choice, especially if there are a lot of trees with low hanging branches that you have to walk through. However, there are a lot of interesting facts about umbrellas.
Backpack
A lightweight and breathable backpack is the best choice whether you're hiking in summer or winter. A breathable backpack will keep your back from sweating too much, which not only reduces discomfort (who wants icky sweat going down their back?), it also allows your body to retain fluids and stay hydrated. Make sure the backpack is equipped with two front clipping straps. In order to take pressure off of your lower spine and hips to prevent aches and pains. There are a lot of backpacks out there, so choose wisely.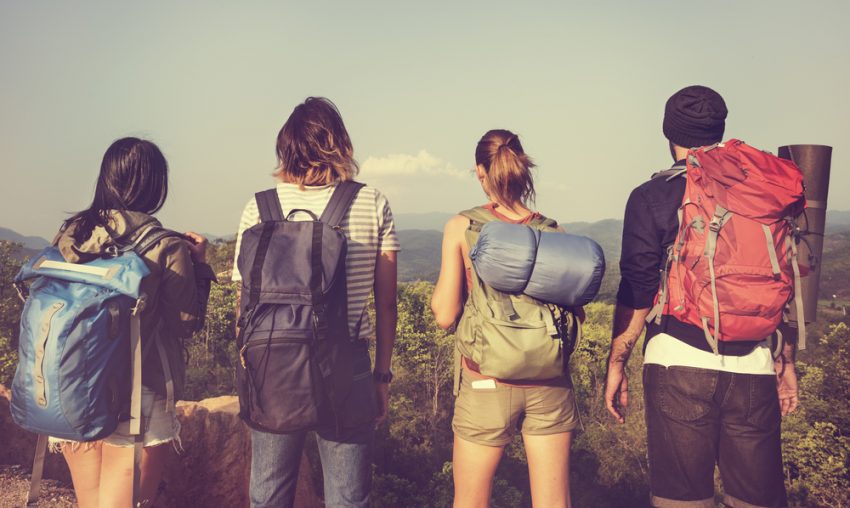 Sun protection
On a sunny day or even on a cloudy day, sun protection is important. You can even get a sunburn when there's snow on the ground. So make sure to take sunscreen, lip balm and sunglasses with you, so that you don't look like a lobster after your trip.
Navigation
While it's nice to get 'lost' in nature, you still want to know where you're actually located. Even though most people have a smartphone with Internet and GPS maps included, the connection can easily drop in rural areas or when the battery dies. So it's always good to bring an old-fashioned printed map of the area you're hiking. An inexpensive compass can also be useful and a potentially life-saving tool. Also make sure to let friends and family know when you're going hiking in a remote area so someone knows where you are in case something happens and you're unable to communicate to the outside world.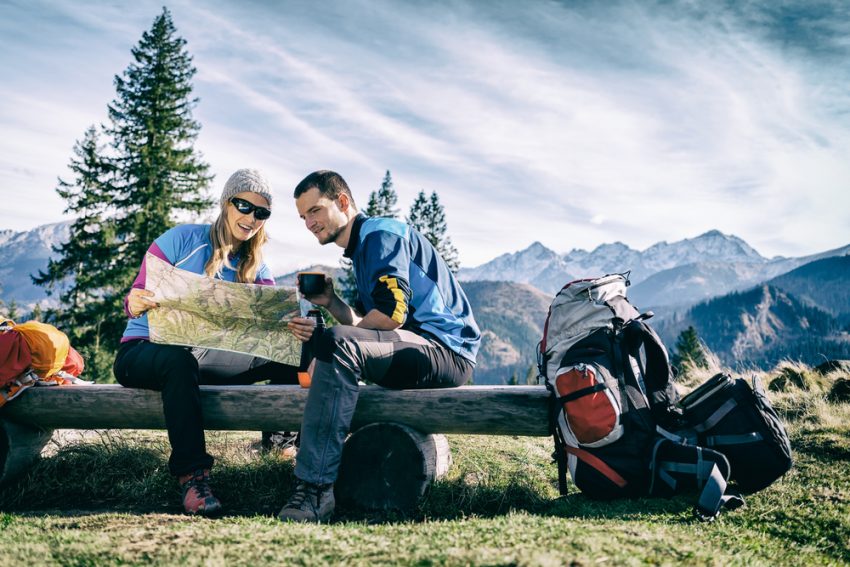 Food and water
When hiking, food and water are absolutely necessary. Nutrient dense foods such as nuts, granola, trail mix and energy bars should provide you the energy you need. Of course, make sure to bring enough along for the planned duration of your hike, as there won't be any stores in the middle of the forest to help you out if you're hungry. You also need to stay hydrated, especially in the summer months where you lose lots of valuable body water through sweating. You should generally drink two cups of water for every hour you hike.
Shelter possibilities
When you go on a longer hiking trip, you have to bring a tent and a sleeping bag with you. These are important items to spend the nights outdoors in the mountains, especially in the winter, when it's cold or when it's rainy.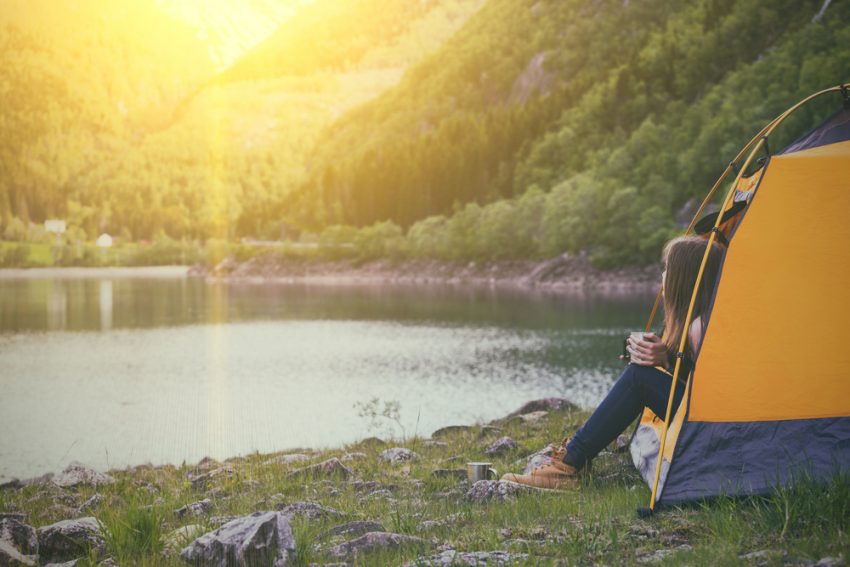 Flashlight
If you don't know what time you'll be done hiking, remember to take adequate lightning with you so that you can find the path if it gets dark.
Morecast Weather App
Before planning a trip, check the Morecast weather app for pinpoint accurate forecasts, so you can adequately plan your hiking adventure. Don't have Morecast yet? Download it here.