Weather
Hurricane Andrew Roars Across Southern Florida, 25 Years Ago Today
The 1992 Atlantic hurricane season was generally a quiet one. Only seven named storms developed that season, barely over half of the average. The only exception proved to be a historic one. Hurricane Andrew roared into south Florida on August 24th as a Category Five monster. It would set a new high-water mark for hurricane damage costs while claiming 65 lives.
Pre-season predictions made in the spring and summer of 1992 called for another quiet hurricane season in the Atlantic basin. Scientists noted the lack of West African thunderstorm activity and the persistent warm "El Nino" phase of the eastern Pacific ENSO circulation. Both are correlated with below normal tropical activity over the Atlantic.
Relatively mild activity had characterized the tropical Atlantic for more than two decades, and would continue until the mid-1990s. South Florida residents in particular could be forgiven for feeling complacent. The last major (Category 3+) hurricane to strike the area had been Betsy in 1965. In the years since, the population of Miami-Dade County had doubled. Regulations governing the accompanying housing construction boom were based on outdated information, and were poorly enforced anyway. Many homes across South Florida were plywood-framed, cheap and fast to build but prone to catastrophic failure in hurricane force winds.
HURRICANE ANDREW
The tropical depression that would become Andrew was born on August 16th off the west African coast. It spent the next several days crossing the Atlantic as an unmemorable cyclone, buffeted by the same strong upper level winds that prevented storm formation for most of the rest of the season. However, a window of conditions favorable for rapid intensification opened on the 22nd. The same favorable pressure systems worked to bend Andrew to a westward course. Within 36 hours, Andrew had blossomed into a Category Five colossus with crosshairs locked on the Florida coast.
Andrew steamrolled across the northern Bahamas first on the 23rd, then struck the Florida coast near Homestead Air Force Base just south of Miami early on the 24th. Radar and satellite imagery as well as aircraft data indicated the storm, after weakening a bit in the Bahamas, was rapidly intensifying again as it made landfall. Andrew emerged from the Gulf coast of south Florida still a major Category Three hurricane. It turned north and hit southern Louisiana with destructive winds and flooding on the 27th.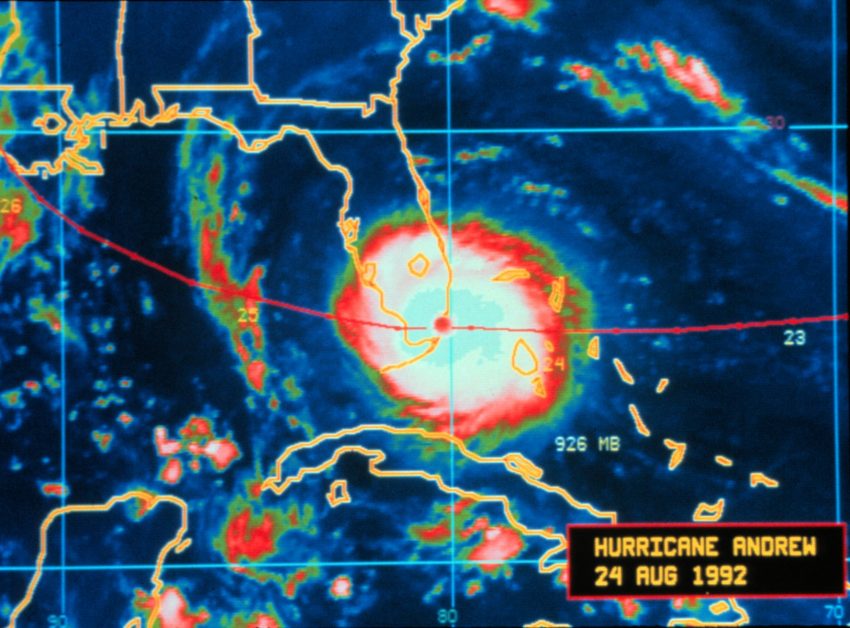 Winds as high as 177 mph lashed south Florida and caused unprecedented destruction. Homestead AFB was almost totally destroyed, terminating its existence as an active Air Force facility (it was later rebuilt as an Air Reserve Base). Insurance claims filed by more than 600,000 residents overwhelmed the industry's financial infrastructure, causing eleven companies to go bankrupt.
One piece of relative good fortune was that the storm surge was modest compared to other storms of comparable intensity, 4-8 feet in most places, probably due to Andrew's small size. Andrew is one of the few storms on record for which more casualties are blamed on high winds than flooding.
AFTERMATH
The devastation and dislocation caused by Andrew triggered a major demographic shift in the region. The year 1993 was the only year on record when the population of Dade County dropped. Conversely, the population of neighboring Broward County has grown by 29% in the intervening years. Refugees from Andrew's devastation took the opportunity afforded by insurance claim funds to make a permanent move.
Construction regulations were radically revamped in response to the widespread destruction. New homes were built on sturdier concrete foundations. Robust nails replaced glue and staples for fastening roof shingles. Windows were required to be composed of impact-resistant glass or be accompanied by hurricanes shutters designed to withstand winds of 150-170 mph and associated flying debris.
However, increased construction and insurance costs haven't deterred people from building homes in south Florida. In fact, developers are reportedly complaining about the lack of space available to build new subdivisions. Just how much has the 25-year respite allowed the memory of Andrew to fade from the minds of south Floridians?