Posts EN
THURSDAY UPDATE: Florence Crawling Near the North Carolina Coast!
Hurricane Florence is approaching the south coast of North Carolina. Rain bands have been rotating onshore since this morning and conditions have really been deteriorating this afternoon into the evening. Wind gusts of 80-100 mph have been reported. Atlantic Beach has also measured more than 12″ of rain so far. Unfortunately, the storm is slowing down to a crawl. Torrential rain is going to continue for the better part of two days, spreading into South Carolina late tonight into Friday.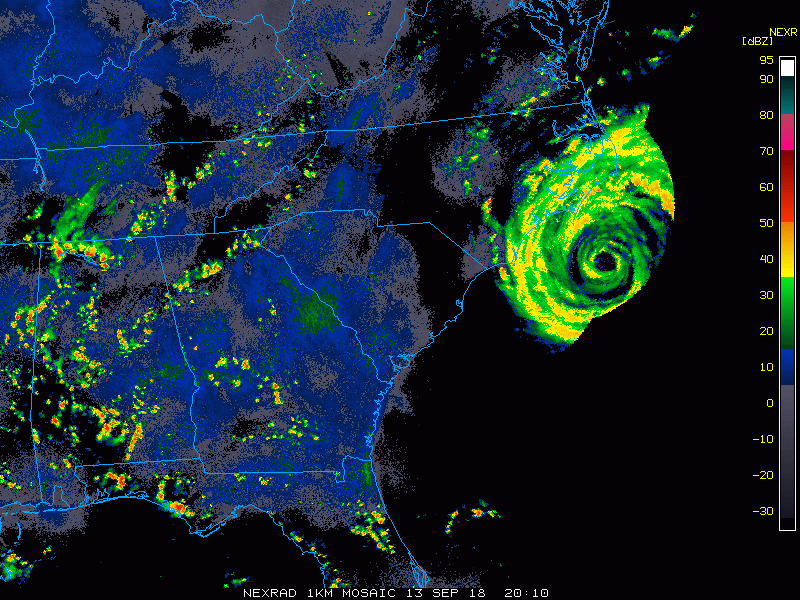 Sustained winds in Florence's eyewall are now 100 mph, making it a category two storm. However, the storm is significantly larger than it was a day or two ago. Storm surge has inundated a long stretch of the Carolina coast. Unfortunately, the slow movement of the storm will mean several cycles of surge-magnified high tide. The next high tide is coming around midnight in southern North Carolina, then another early Friday afternoon.
As mentioned above, rainfall amounts of 4-8 inches, locally higher, have already fallen over the southern Outer Banks and adjacent mainland North Carolina. Florence will take its sweet time moving west, then west-southwest, and won't reach South Carolina until Friday night. Although the storm will steadily weaken over that time frame with a diminishing wind threat, torrential rain will continue to fall. Rain amounts of 12-24 inches will be common from southeast North Carolina to eastern South Carolina. Some areas will finish with 30 inches or higher! This record-threatening rainfall will cause widespread flash flooding followed by river flooding that will inundate homes and businesses across the region.