Posts EN
UPDATE: Michael Even Stronger, Now A Major Hurricane Aiming for the Florida Panhandle!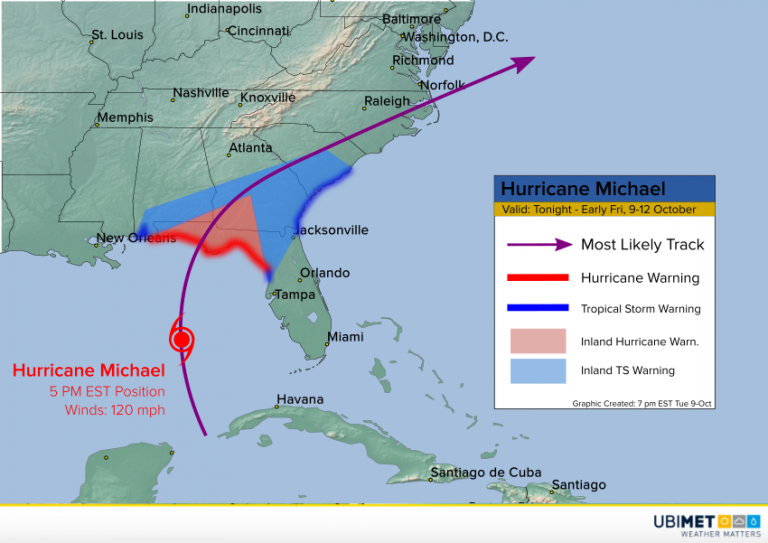 Hurricane Michael continued to gain strength on Tuesday. As of Tuesday evening, Michael is a major category three hurricane with sustained winds to 120 mph, one of the strongest ever Gulf hurricanes in the month of October. Michael is expected to be a very dangerous storm as it approaches landfall in the Florida panhandle by midday Wednesday!
Gorgeous evening in Panama City with a slight breeze– and already significant storm-surge flooding. Can't even imagine what this place is gonna look like in 24 hours. Holy hell. #Hurricane #MICHAEL pic.twitter.com/GznYP8aSXh

— Josh Morgerman (@iCyclone) October 9, 2018
Water is already rising ahead of the hurricane along the coast of Florida (see tweet above). Panama City, Florida remains the likely landfall point by mid-afternoon on Wednesday. The water ahead of Michael is warm and wind shear will remain low through landfall. If Michael maintains strength as forecast, it'll be only the fourth major hurricane to strike the Florida panhandle since 1950.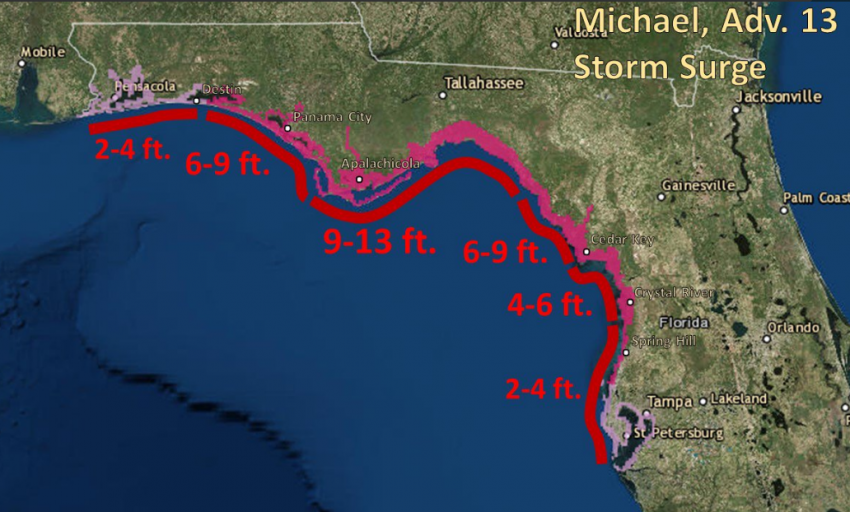 A deadly storm surge of 9-13 feet (3-4 m) will flood the coast of the Florida panhandle on Wednesday near and east of where the eye hits land (see graphic above). Destructive wind gusts exceeding 100 mph will affect not only the coast but adjacent inland areas even into southwest Georgia. Tropical storm-force winds capable of knocking down trees and causing power outages will slam an area from Florida through southern portions of Georgia and South Carolina.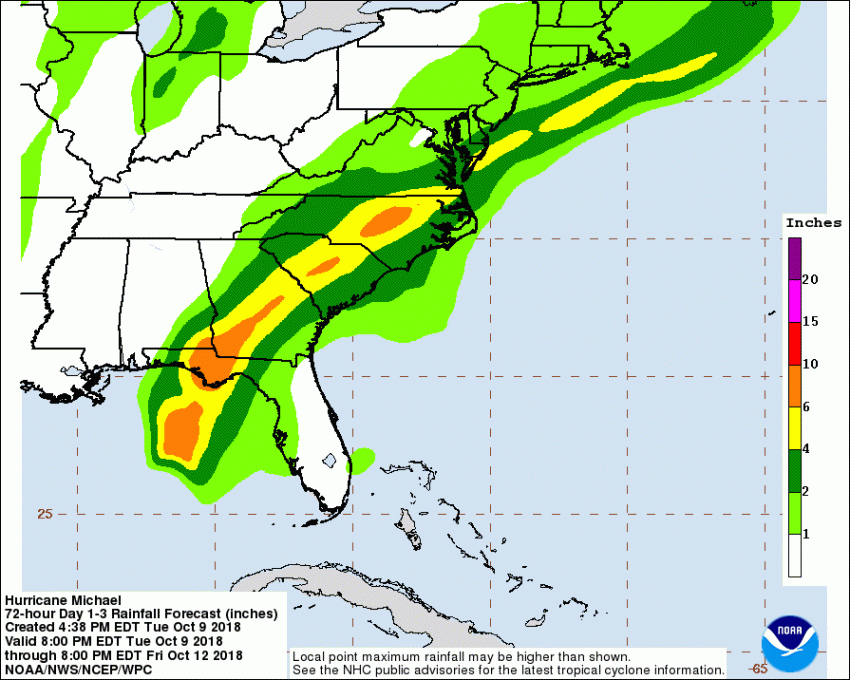 Michael is a fairly small, fast-moving cyclone, totally unlike historic Hurricane Florence in the Carolinas last month. Nonetheless, some areas will see very heavy rainfall approaching 10 inches (250 mm) in spots (see map above). Significant freshwater flooding will be a threat, especially where it combines with ocean surge flooding.