Posts EN
UPDATE: Michael Slams into Florida, One of the Strongest Hurricanes Ever to Hit the U.S.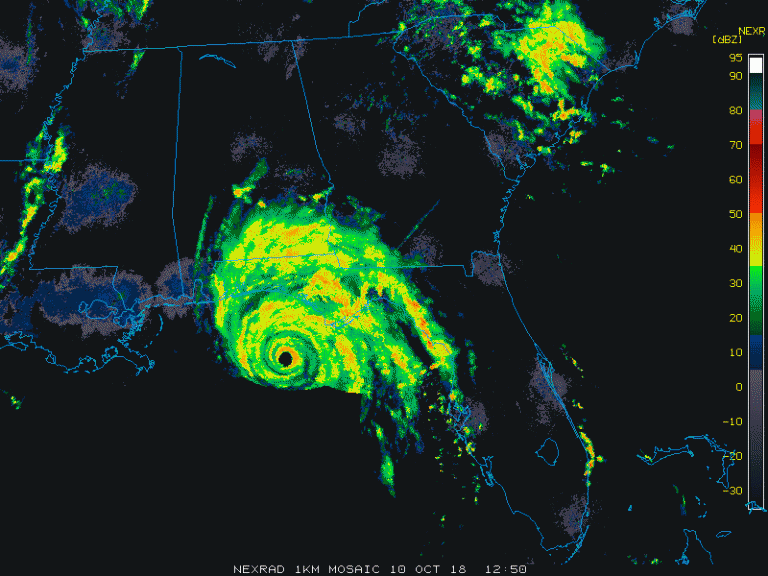 Hurricane Michael made landfall a little before 2 pm ET near Mexico Beach, Florida, just southeast of Panama City. Michael continued to intensify up until landfall, unusual for a cyclone. With sustained winds to 155 mph (250 kph) and a minimum central pressure of 919 mb, Michael was near or just below category five status. It's one of the top five strongest hurricanes ever to hit the U.S. mainland!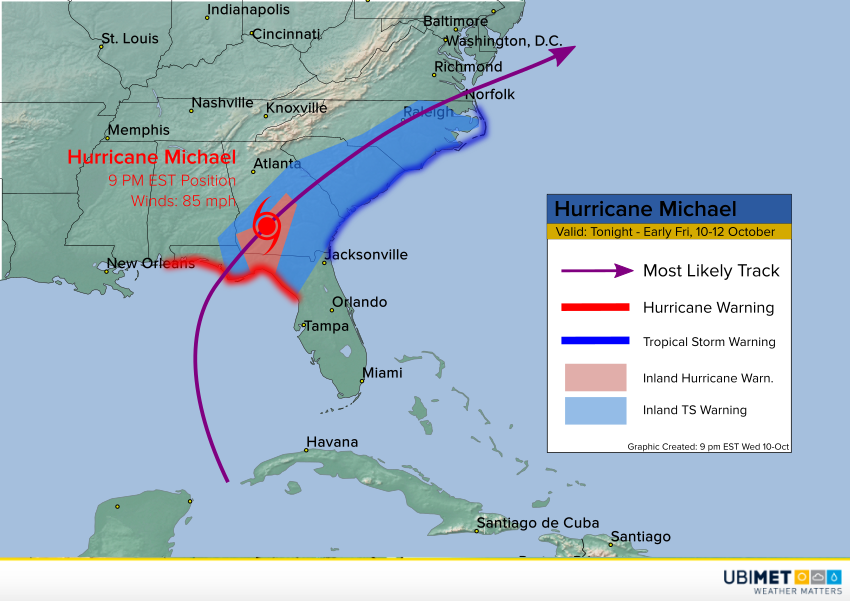 We won't venture out until it's safe but many people are wondering about their family members and homes. Here is my view from 23rd street summer house up and down 98. pic.twitter.com/37AuUQOAGH

— Ginger Zee (@Ginger_Zee) October 10, 2018
Michael continues to move quickly northeast across central Georgia. Despite some weakening, Michael is still a hurricane with sustained winds to 85 mph (137 kph) as of the 9 pm ET update. Steady weakening will continue but Michael will still be capable of producing flooding rainfall, damaging winds, and tornadoes through Thursday before moving off the southeast coast early Friday.
Reports and gauge data indicate the storm surge probably peaked in the mid-afternoon just after landfall. The gauge at Apalachicola reached nearly 8.5 feet (2.5 m) above mean sea level around 2 pm ET. Since then the water has retreated to "only" three feet above sea level. As the storm marches inland and regular lunar tide goes out, surge flooding will continue to slowly recede.
A look at what houses in #Mexico Beach, #Florida look like right now. This is a follow up from the previous clip posted. They are now submerged and were no match for #HurricaneMichael (via Tessa Talarico) #Hurricane #Michael #HurricaneMichael2018 pic.twitter.com/GJENrhFJha

— Josh Benson (@WFLAJosh) October 10, 2018
This is what a CAT 4 will do. I do not understand why some people never evacuate. #HurricaneMichael pic.twitter.com/mBgde7JS2J

— Antonio Paris (@AntonioParis) October 10, 2018
The strongest wind gust thus far of 129 mph (208 kph) was measured at Tyndall Air Force Base. Several stations in the region have reported gusts exceeding 100 mph with many failing shortly thereafter due to the high winds. These damaging winds will continue to be a threat through the next 24-36 hours. Tropical storm warnings are posted across southern Georgia, South Carolina, and North Carolina. Localized higher winds are likely where brief, fast-moving tornadoes spin up in the southeast quadrant of the storm. Michael is moving fast enough so that Florence-like flooding is not expected. However, localized flash flooding will occur, and rain-loosened soils will combine with the high winds to down many trees and powerlines, leading to widespread power outages.