Posts EN
More Heavy Rain and Mountain Snow for Oregon and Northern California!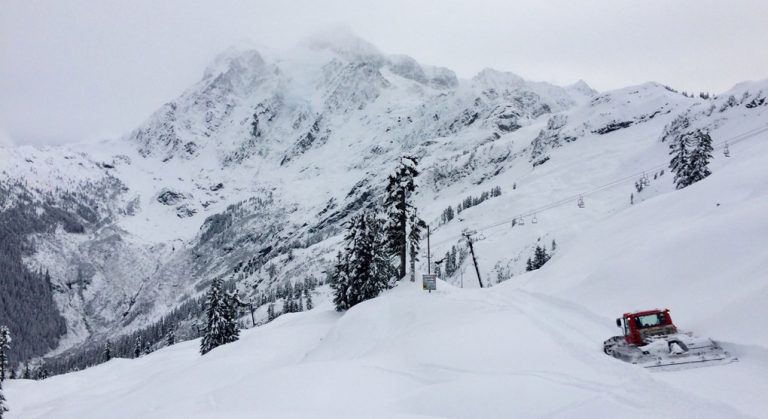 A deep Pacific moisture tap continues to slam portions of the west coast. Heavy rain is flooding the lower elevations with crippling snow in the mountains. Rivers have surged to levels not reached in decades, while ski resorts face the unhappy prospect of having too much snow to operate.
The latest storm system dropped heavy snows even in the relatively low-lying Willamette Valley of central Oregon. An Amtrak train was stopped for 37 hours with 183 passengers on board by a downed tree due to the heavy snow just outside Oakridge, OR. Up to 18 inches of snow was reported in Eugene, one of the biggest storms on record. The storm then moved south into the northern half of California. Mt. Shasta reported upwards of 70 inches of accumulation in a 48-hour period. The snow was enough to bury ski lifts, shutting the popular ski resort there down. Similar accumulations pounded portions of the Sierra Nevada range. Squaw Valley ski resort has recorded 300 inches in the month of February, the snowiest month on record. For the season, they've seen 557 inches, or more than 46 feet!
This is a rare sight in Eugene, Oregon. Loving it! #letitsnow #oregon #snowday #snow pic.twitter.com/r0d6vPEYjn

— Amber (@MommaBear115) February 25, 2019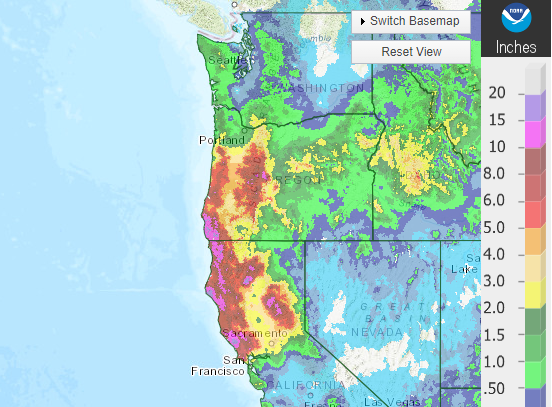 The issue for lower elevations has been persistent heavy rain. West-facing foothills and coastal areas of northern California and southwest Oregon saw widespread 6-12 inch rainfall amounts since last week, locally higher (see map above). The Russian River at Guerneville rose from near 10 feet on Monday afternoon to more than 45 feet by Wednesday evening (see graphic below), flooding much of the town and forcing thousands to evacuate. Indeed, all roads in and out of Guerneville and nearby Monte Rio are now impassable, totally stranding any residents who stayed behind. Fortunately, the region will enjoy a few days of dry weather to begin to recover. Lead photo courtesy flickr contributor Peter Stevens.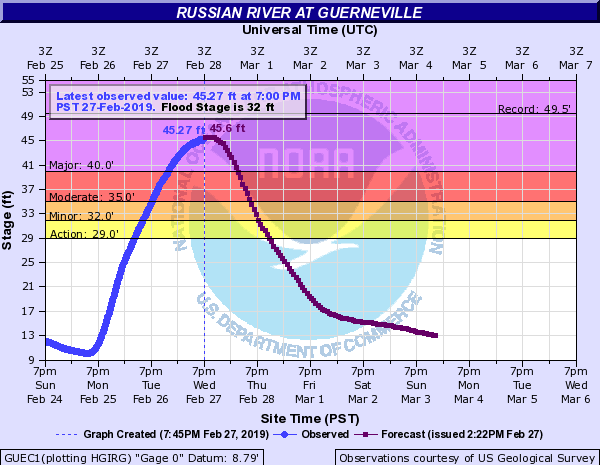 The state of #Guerneville from above. Watch live as NBC Bay Area's SkyRanger flies over flooded neighborhoods along the Russian River. https://t.co/dSmM4icFjv pic.twitter.com/ujkqZXiMVn

— NBC Bay Area (@nbcbayarea) February 27, 2019