Posts EN
Mid-South Tornadoes Kill Dozens, Worst Outbreak In Years!
Numerous tornadoes roared across portions of Alabama, the Florida panhandle, Georgia, and South Carolina on Sunday, March 3rd. Almost two dozen people lost their lives to one of the twisters alone, more deaths than were attributed to all tornadoes across the country throughout 2018. The outbreak ended a years-long stretch of relatively harmless tornado activity.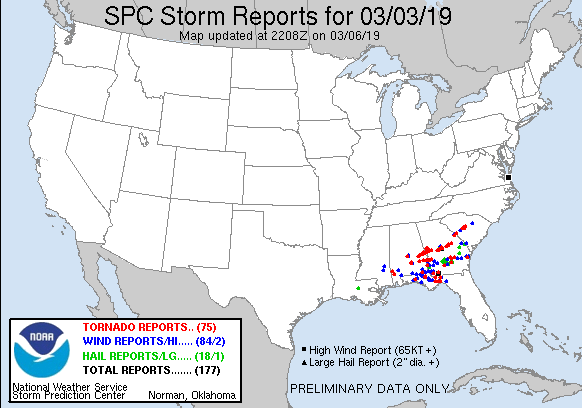 Seventy-five tornado reports were tallied by the Storm Prediction Center. Based on these reports, National Weather Service survey teams found 34 individual twisters had developed. By far the most significant mowed a path stretching almost 70 miles through parts of Alabama and Georgia. This tornado was at one point nearly a mile wide, boasting winds of 170 mph. It was the first EF4-rated tornado anywhere in the U.S. since one struck the town of Canton, Texas in April 2017. The death toll of 23 made it the deadliest single tornado since the EF5 that devastated Moore, Oklahoma in May 2013.
NEW: Lee County Sheriff says search efforts have ended. Death toll from Sunday's tornado stands at 23. https://t.co/YiVMlPzYhu @abc3340 @spann #alwx pic.twitter.com/UgEmh7NJpd

— Stephen Quinn (@StephenQ3340) March 6, 2019
Officials have identified 23 people killed by a tornado in Alabama on Sunday. The youngest victim was 6, the oldest was 89.

One extended family lost 10 members. pic.twitter.com/FHAD5azcgT

— AJ+ (@ajplus) March 6, 2019
BREAKING: Preliminary EF-4 Tornado Damage has been found along County Road 39 just east of Cave Mill Road in southwestern Lee County. Winds have been estimated at 170mph. Single family homes were completely destroyed. Photos are from those survey locations. #alwx pic.twitter.com/euYNfSDY11

— NWS Birmingham (@NWSBirmingham) March 4, 2019
Officials blame the unusually high death toll in part on the prevalence of vulnerable mobile homes in the tornado's path. Residents had ample warning of the approaching twister, but many had no sufficient sheltering options available. Other factors include the lack of emergency communication channels for some in the poverty-stricken community, and a sense of complacency due to previous unrealized tornado warnings. Lead photo courtesy Wikipedia contributor Matt Putzel.