Posts EN
Tropical Cyclone and Sizzling Heat Pose Different but Deadly Threats to India!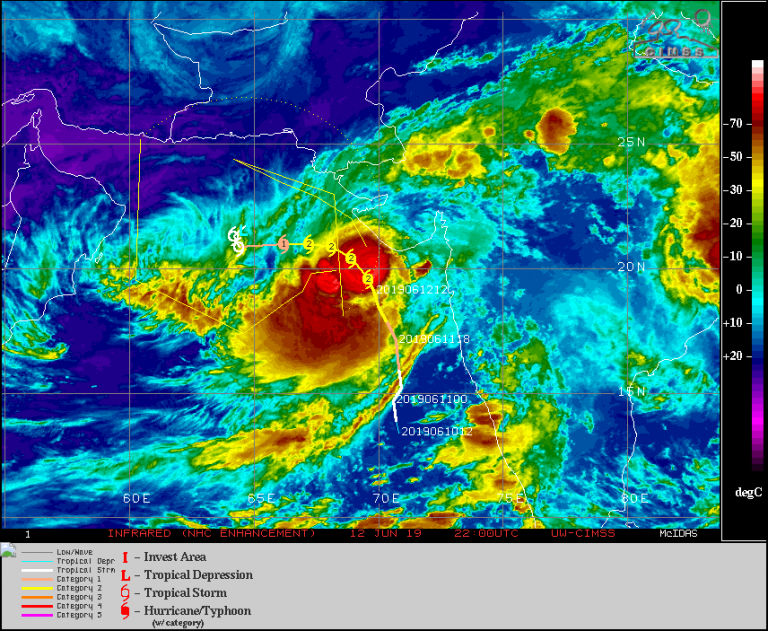 Much of India has been boiling in record-breaking heat since the end of May thanks to a delayed monsoon. Now a cyclone has spun up over the Arabian Sea, threatening the western state of Gujarat.
Impact of "VAYU" Cyclone in Gujarat. #CycloneVayu #Gujarat pic.twitter.com/Pqsexvorlw

— snehanshu shekhar (@snehanshus) June 12, 2019
At Diu live 7.40pm 12 June
Be careful #Vayu #Diu #VayuCycloneGujarat #todaynews pic.twitter.com/An5vZwYKFX

— Indrasingh Solanki (@IndarsinghSola9) June 12, 2019
Cyclone Vayu developed on 10-June over the southeast Arabian Sea and has been moving steadily north since. Paralleling the western coast of India, the cyclone is small but has gained strength. It's now producing destructive winds in excess of 150 kph along with flooding rains and storm surge. These deadly threats prompted government officials to evacuate millions of residents along the coast of Gujarat, a state that rarely sees cyclones of this intensity. It also comes only two months after Cyclone Fani slammed into portions of eastern India and Bangladesh, killing nearly 100 people. Fortunately, the latest models suggest that Vayu will stay off the coast with the worst impacts over open waters.
A crippling heatwave is continuing to roast nearly two thirds of India this week, as heat records have been falling by the wayside. This heatwave, which began in the middle of May, has been responsible for 36 deaths so far, and has led to numerous conflicts over water shortages. These conflicts have been linked to people getting beaten, stabbed, and even killed as sources of water have become scarce.
On June 2, the city of Churu reached 50.8 ºC, which is just shy of the all time record high recorded in India of 51. Delhi hit a high of 48 on June 10th, becoming the highest temperature ever recorded in that city for the month of June.
The intensity of the heatwave is not the only aspect of it that is record breaking, but its length is also on track to break a record. As it currently stands, the heatwave's length is at 32 days, but the record longest heatwave recorded is 33 days. This record is likely to be broken in the next few days as no signs of a cool down are in the forecast.