Posts EN
Dorian Now a Hurricane, Major Landfall Threat for the Southeast USA!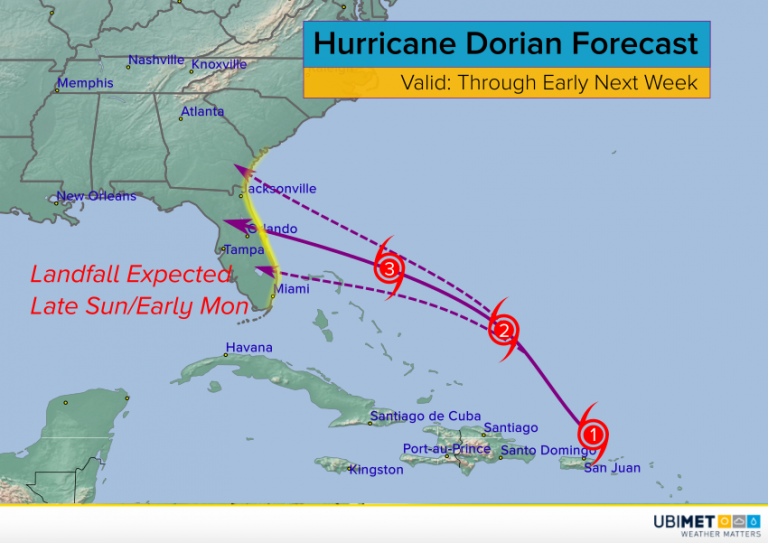 Dorian has finally overcome the dry air that was hampering the system previously and strengthened to hurricane status on Wednesday morning. The cyclone sidestepped Puerto Rico, but hammered the U.S. Virgin Islands with wind gusts reported up to 100 mph (see tweet below). Now Dorian is moving into the open Atlantic with plenty of warm water and light winds ahead of it. Additional strengthening is likely, and a projected turn to the west could bring a major hurricane into the southeast U.S. within a matter of days!
💨It's getting worse here in St Thomas I would expect friends in Puerto Rico would encounter this soon @weatherchannel @wunderground #TropicalStormDorian #usvi #caribbean #weather pic.twitter.com/84RCcfQApV

— OM 🇻🇮🇻🇬 (@OldMangoCompany) August 28, 2019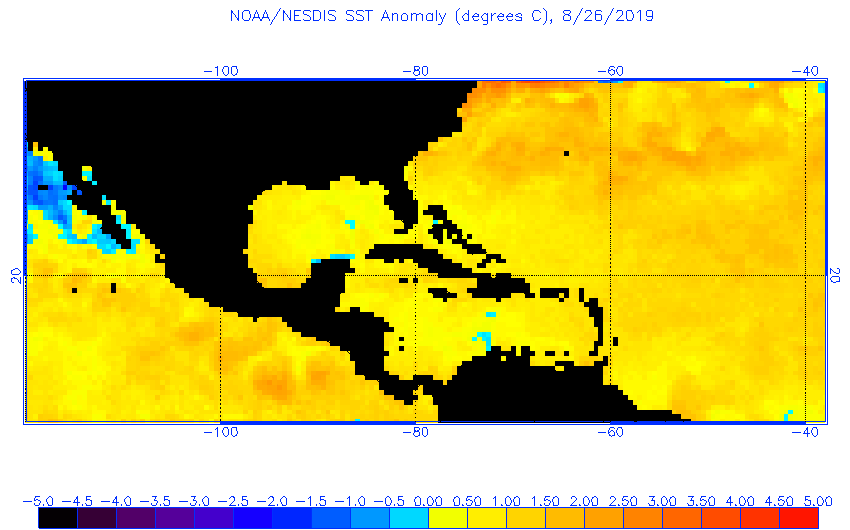 Hurricane Dorian has been moving north of the expected track since Tuesday. As a result, it has missed the high terrain of Puerto Rico and Hispaniola that many hoped would disrupt and weaken the circulation. Intensification has taken place instead, and this process will likely continue as Dorian moves into anomalously warm water over the western Atlantic (see map above). Model guidance suggests a high likelihood that Dorian will achieve major (Category Three) hurricane status in the next few days. Models also continue to suggest that Dorian will turn west-northwest as a ridge of high pressure builds to the north. That makes a landfall along the southeast U.S. coast more likely. At this time, central Florida looks like the highest risk. However, locations from south Florida to the coastal Carolinas can't let their guard down. Where the landfall occurs, expect destructive winds, flooding rains, and a deadly storm surge. Landfall is projected to occur sometime late Sunday into early Monday.