Posts EN
Dorian Gaining Strength over the Open Atlantic; Florida Officially in a State of Emergency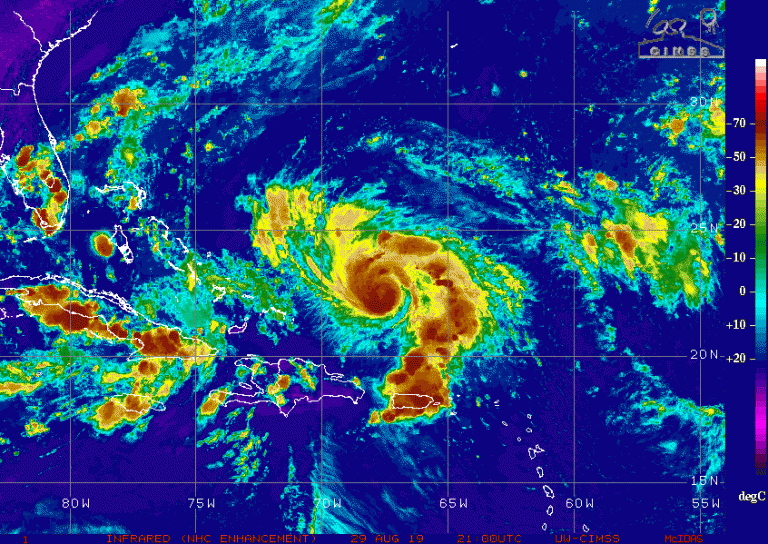 Hurricane Dorian slowly gained strength on Thursday over the warm open Atlantic waters. A turn to the west and additional intensification is expected on Friday. By late Saturday into Sunday, Dorian could be a major hurricane tearing through the northern Bahamas with eastern Florida in its sights!
Dorian is now a Category Two hurricane as of Thursday evening with sustained winds up to 105 mph. The hurricane is moving northwest, but model guidance is in very good agreement that a high pressure ridge building north of the storm will turn Dorian to the west in the next few days. Steering currents are now expected to weaken heading into this weekend. Dorian will slow down as it approaches the northern Bahamas, meaning any eastern Florida landfall will be somewhat delayed. The prime landfall window now looks to be later Monday afternoon to early Tuesday. The south or central east coast of Florida continues to be the main target of most models, although locations up as far north as Georgia certainly aren't out of the woods.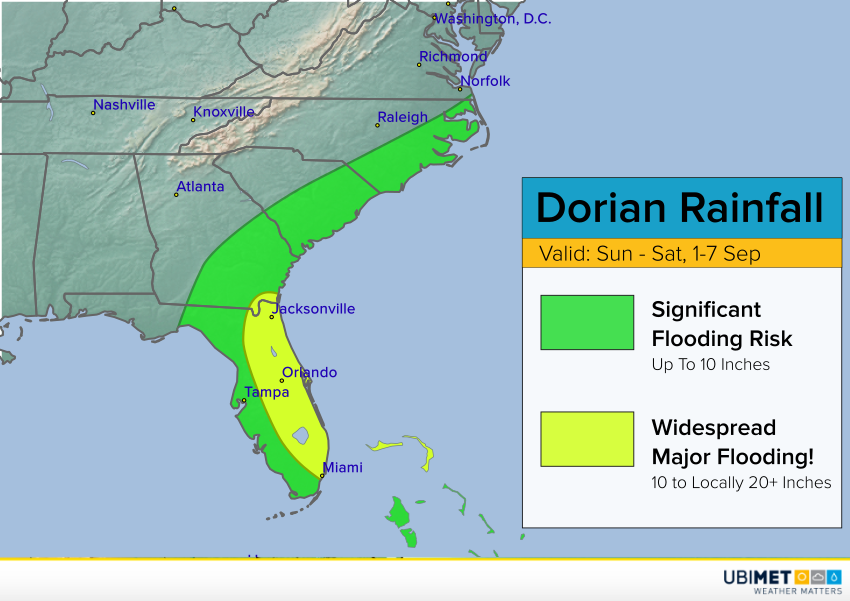 Models continue to suggest steady intensification to major hurricane status by Friday or Saturday. That spells the potential for massive destruction at and near the landfall point. Destructive winds will fell most trees and some structures, knocking out power for weeks. A deadly storm surge will inundate the coast, unfortunately magnified by enhanced tidal flooding due to the new moon. Indeed, there will likely be serious coastal flooding as far north as the Carolinas despite the distance from Dorian's landfall. The slower storm motion will also mean a greater threat of torrential rainfall (see map above). Some locations will see 15-20+ inches of rain next week, leading to widespread flash and river flooding. Suffice to say, this is an extremely dangerous situation! Residents across the Florida peninsula should pay very close attention to local emergency broadcasts and be prepared to evacuate if so ordered.