Posts EN
Super Typhoon Hagibis Barrels Over the Marianas, Could Threaten Japan This Weekend!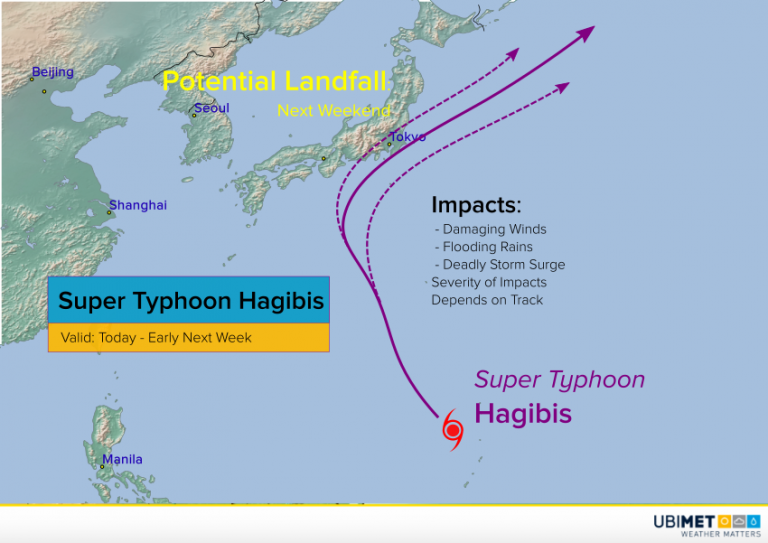 Typhoon Hagibis, just a tropical storm early Monday, underwent a period of rapid intensification through early Tuesday. In fact, Hagibis gained 100 mph of intensity in less than 24 hours, the fastest intensification of any Pacific basin cyclone since 1996. Islands in the northern part of the Marianas bore the brunt of this monster storm. Now the cyclone is moving back over open waters with Japan potentially in the crosshairs this upcoming weekend.
Rapid intensification of Typhoon Hagibis.

Just insane eye-clearing. pic.twitter.com/zotkhIt7qr

— Dakota Smith (@weatherdak) October 7, 2019
Hagibis has been moving west-northwest and passed some distance north of the most populated of the Marianas group. Model guidance is in good agreement that the cyclone will turn northwestward, then eventually curve to the north and northeast. Where this occurs will determine whether the cyclone makes a glancing blow on Japan or a destructive landfall. Some fluctuations in intensity are likely in the next few days. Later this week, Hagibis will encounter cooler water temperatures, leading to a weakening trend as it approaches Japan. Hagibis will remain a large and powerful cyclone, however, and significant impacts are likely. A direct landfall would mean life-threatening storm surge, destructive winds, and serious flash flooding. Major sporting events scheduled for this weekend in Japan like the Rugby World Cup and the F1 Japanese Grand Prix could face significant disruptions.