Allgemein
Typhoon Hagibis Targets Japan!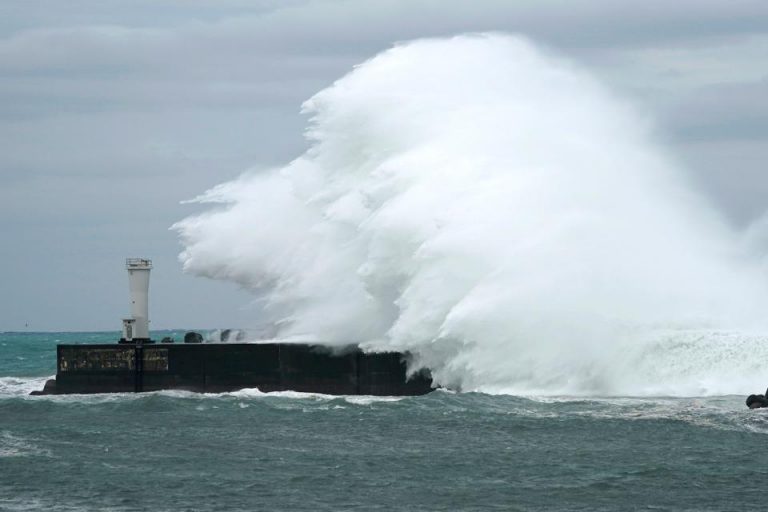 As Typhoon Hagibis is heading towards Japan, the island nation is bracing for it's impact. The storm is currently churning offshore, packing winds of 162kph, and is expected to make landfall late on Saturday night. Hagibis is very dangerous not just because of it's strength, but it's sheer size. It's wind field spans 1400km, which is nearly half the length of Japan.
We sincerely Pray for the Safety of all J-MOAs and our fellow Japanese people as they brace from Super Typhoon Hagibis, which is said to be the Strongest to strike Japan after 50 years. 🙏 #PrayForJapan. pic.twitter.com/JwP2ngDqBT

— TXT INTERNATIONAL | MAGIC (@TXTintl_twt) October 11, 2019
Before coming down to it's current pressure of 943hPa, Hagibis went from 992hPa to 915hPa within 24 hours, making it the ninth most rapidly intensifying storm in recorded history, and one of the most intense tropical cyclones of 2019. Forecasts are calling for Hagibis to have a central pressure of 950hPa as it makes landfall near Tokyo. If this occurs, it would be the strongest storm to ever hit that region.
#Tokyo #hagibis update. Rain is intensifying hourly. Comes down in sheets, then eases up. Wind picking up too. Sirens & alarms frequent. Peak storm due in about 3 hours. Will hole up in hotel later, stocked on supplies (sushi & beer!), hoping power remains on. Everyone be safe! pic.twitter.com/Cuiu8taf0c

— Ross Tucker (@Scienceofsport) October 12, 2019
Hagibis has potential to break records as it is expected to bring wind gusts of up to 216kph, 300-500mm of rain, with some spots seeing up to 800mm, and devastating storm surge, with water levels possibly reaching as high as 13m. If those effects weren't bad enough, the storm will make landfall during a full moon phase, which will lead to higher than normal tides, and only exacerbate the coastal flooding.
Wind and rain starting to lash Shimoda on south coast of Izu peninsula, conditions will continue to deteriorate throughout the day as #typhoon #Hagibis closes in #Japan pic.twitter.com/SUpnGxkJHc

— James Reynolds (@EarthUncutTV) October 11, 2019
Although Japan is no stranger to typhoons, with 11 typhoons approaching, and two directly hitting the country on average every year, Hagibis is coming on the heels of Typhoon Faxai, which struck the region last month. That storm brought record breaking gusts of 207kph, several people were killed, and hundreds of thousands of homes were damaged or destroyed. Many residents remain in shelters, while numerous homes still have plastic tarps in place as makeshift roofs.
Japan needs our prayers😢..#PrayForJapan #Hagibis pic.twitter.com/pyq0YLoDHC

— Chezka Nicole Alfas (@itzChezTzukook) October 12, 2019

In preparation of the storm, flights have been canceled, trains halted, and both the Rugby World Cup and Japanese Grand Prix, have postponed games until Sunday. Supermarket shelves have been completely wiped out as shoppers stock up on supplies to get them through the storm.