Allgemein
Typhoon Hagibis Pummels Japan!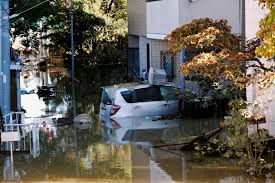 Typhoon Hagibis made landfall on the Izu Peninsula of Japan on Saturday evening. With winds of 144kph and gusts up to 160kph at landfall, Hagibis is the second typhoon to strike Japan within the last month. So far, 35 people have been killed, and hundreds have been injured, with dozens more missing, or unaccounted for. 500,000 homes are in the dark as crews are feverishly trying to restore the power. Many government officials and residents alike are calling this the worst storm to strike Japan since Typhoon Ida in 1958. Tokyo, one of the world's most populous metropolitan regions, was brought to a complete standstill on Saturday as Hagibis roared through.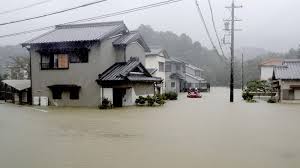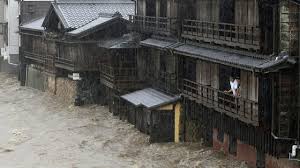 Although the winds were damaging, the most destructive facet of Hagibis was the rainfall. A record breaking total of 939mm was recorded in the town of Hakone, while amounts between 200-500mm were observed elsewhere in the country. These staggering amounts of rain have led to widespread flooding as many rivers have come over their banks, and levees have collapsed. Landslides have also been numerous in mountainous regions. Several hundred of Japan's iconic bullet trains have been damaged as the rail yards they sit in were flooded.
#TyphoonHagibis, the biggest storm to hit Japan in decades, left a trail of destruction:
– At least 31 dead, 15 missing, 186 injured: NHK
– #Hagibis winds were up to 252km/hour (157 miles)
– 50,000+ without power
More @business: https://t.co/jysc8Zd1bK #台風19号 pic.twitter.com/fPkzL5Pm1b

— Bloomberg TicToc (@tictoc) October 14, 2019
Countless dramatic scenes have unfolded throughout the country in the last 24 hours. As residents have been trapped on their roofs, military helicopters have come to their aid by airlifting them to safety. Unfortunately, not all of the people being rescued made it to safety. One 77 year old woman fell to her death while being rescued, as rescuers incorrectly put her harness on while she was being airlifted. In Tokyo Bay, a 1,925 ton cargo ship sank in the violent surf. It's crew members were tossed into the bay, but luckily were rescued promptly.
Japan begins clean up after Typhoon Hagibis leaves dozens dead https://t.co/rTCMEnRjjQ

— Al Jazeera English (@AJEnglish) October 14, 2019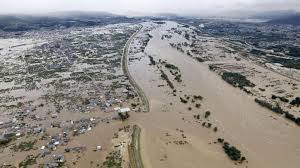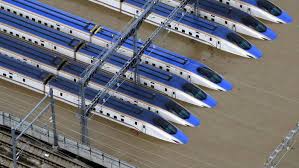 Despite Japan being well prepared for tropical cyclones, Hagibis delivered a particularly hard blow to the country. The extremely high rainfall rates were just too high for the infrastructure to handle, and water tables have been running high since the last storm. Nonetheless, had Japan not been as prepared as it is, the devastation from Hagibis would have been far greater.
IN PICTURES: The chaotic aftermath of Typhoon Hagibis
https://t.co/Xt2DtSGnjc pic.twitter.com/9OzmwXdFLW

— The Japan Times (@japantimes) October 13, 2019