Allgemein
Tropical Cyclone Damien Strikes Northern Western Australia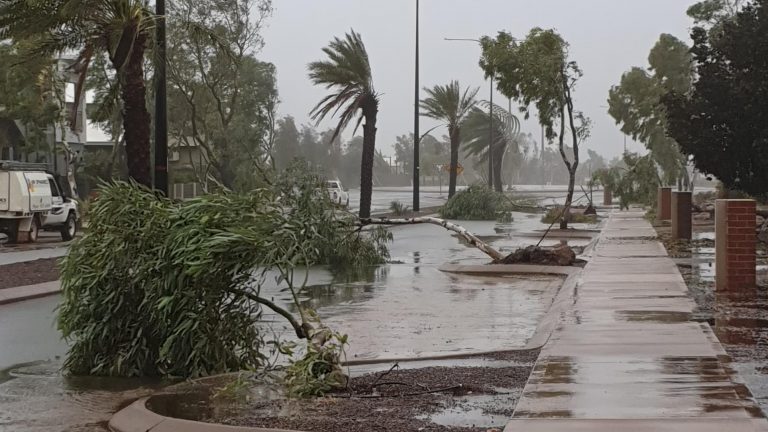 Considerable damage has been reported in the Pilbara region of Western Australia due to Tropical Cyclone Damien, which is the third cyclone to affect the area this year. The storm made landfall near Karratha on Saturday night as a category 3, with winds of 205 kph(127 mph). 10,000 people are currently without power as a red emergency alert remains in place for the area, and residents are being urged to stay inside their homes until the authorities give the Ok to come out again.
We seem to be in the eye of the storm. Eerily quiet after a super extreme hour. #tcdamo #tcdamien #CycloneDamien @ABCemergency @BOM_WA pic.twitter.com/S0b83vMcGh

— Michelle Stanley (@michlstan) February 8, 2020
Damien brought destructive winds, storm surge, and torrential downpours to the region. Crews are still surveying the damage, but no deaths have been reported thus far. Rainfall totals have averaged 200-250 mm(8-10 inches), and many roads were flooded. A considerable amount of homes have sustained at least some damage, with destroyed roofs being the most common form of destruction.
CYCLONE DAMIEN – we are now in the eye of the storm – winds have eased right off – will stay this way for about 3hours and then pick up again … strongest gust recorded at 205km/h in Karratha. 140ml rain. 19 calls for help in region. Still on red alert @9NewsPerth pic.twitter.com/JlPgtwDcG7

— Jerrie Demasi (@JerrieDemasi) February 8, 2020
Despite Damien being downgraded to a category 1 storm with winds currently at 92 kph, the threat for more damage still looms as the storm moves further south into central Western Australia in the coming days. Flooding rains, with possible totals near 200 mm(8 inches), and strong wind gusts, up to 140 kph (87 mph)will be the main hazards going forward until the storm completely diminishes early next week.