Allgemein
From Fires To Floods; Sydney, Australia Receives Deluge Of Rain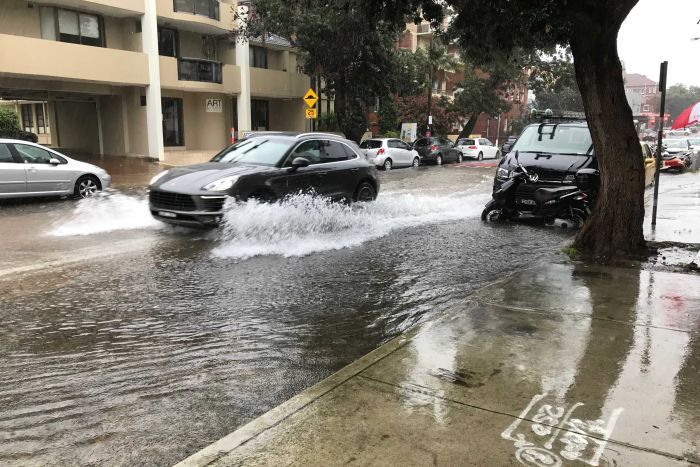 Following months of dry and hot weather, the heavens opened up over over eastern New South Wales during the past few days. The city of Sydney was brought to it's knees as a barrage of heavy rain and flooding inundated the city, and surrounding metropolitan area from late last week through the weekend. Staggering rainfall amounts ranging from 150-400 mm(6-16 inches), which have not been seen since the 1990s,smashed records throughout the region. The rains were accompanied by strong winds and coastal flooding, as an east coast low left much of the area reeling. This has prompted the Insurance Council of Australia to declare a catastrophe in eastern New South Wales. Current claims are at $45 million, and are likely to climb in the near future.
NSW Flooding: Moderate flooding continues along the Hawkesbury River at North Richmond and Windsor. Minor flooding is current at Wallacia, Sackville and Lower Portland. https://t.co/JGpQRYVYgX #NSWFlooding #7NEWS pic.twitter.com/aSYEs6gYJJ

— 7NEWS Sydney (@7NewsSydney) February 10, 2020
An evacuation order remains in place for many neighborhoods in and around Sydney as rivers, creeks, and even lagoons have come over their banks. Street flooding due to drainage systems not being able to keep up with the excessive rainfall has been very prevalent as well. 200 water rescues have been performed since the weekend in Sydney alone, mostly due to motorists driving into flood waters. One dramatic rescue involved a 16 year old boy who was fishing along the Allynbrook River.
After a ludicrously dry and hot summer where we desperately dreamed of rain – Sydney has decided to flood over the last 36 hours. Here is my street an hour ago: pic.twitter.com/Jg9vXn1O2O

— Mark Tanner (@marketanner) February 9, 2020
Wind gusts of over 100 kph(62 mph) rocked the region. This led to thousands of trees being toppled, which then led to widespread power outages. At the peak, around 140,000 customers were without power, but close to 100,000 remain in the dark as power crews work feverishly to restore it. Massive train delays and school closures is what welcomed Sydneysiders this morning. Numerous landslides have been reported, with more expected in the coming days, as soils in areas previously burned by the recent bushfires have become transient after the heavy rain.
'Life-threatening' floods hit New South Wales as heavy rains replace bushfire smoke, with suburbs in Sydney evacuated to avoid flash floods and thousands without power https://t.co/zOXs8GIKqT #ClimateEmergency pic.twitter.com/Pm2xTHVGk9

— Climate and Health Alliance (@healthy_climate) February 9, 2020
Coastal flooding due to the presence of King Tides combined with a stiff onshore wind, has left many coastal communities under water. Waves as high as 8 meters(26 feet) contributed to significant erosion along the beaches. The waves were strong enough to pull a buoy off of Collaroy Beach off of it's moorings. These effects are very similar to what is expected during a tropical cyclone.
Sydney is currently getting smashed by a massive storm. From bushfires and drought to 350mm of rain since Friday night. Floods and evacuations on Sydney's Northern Beaches. Stay safe everyone! #sydneystorms #Sydneystorm #Sydneyweather @NSWfloods pic.twitter.com/fAqUi35ZCm

— Road Less Travelled (@rdlesstravelled) February 9, 2020
Despite the wave of destruction unleashed upon the region, there are a few positive outcomes from all the rain. One for which is a substantial drop in the number of active fires. Before the rains there were 62 active fires, and now there are just 38. One particular fire, known as the Currowan Fire, is finally extinguished after burning 500,000 hectares(1.2 million acres) over a 74 day period. Another beneficial result of the rain is that Sydney's water supply is now nearly 75% full after being at 43% just last week. This will stave off the threat of water restrictions which had been looming in the wake of the recent drought.
It was only a couple of weeks ago that Wentworth Falls was threatened by a bushfire. The epitome of Dorothea Mackellar's My Country: "Of droughts and flooding rains." #sydneystorms #sydneystorm #sydney #australia https://t.co/ksEc4PWHGS

— Andrew Hawkins (@AndrewNJHawkins) February 9, 2020