Allgemein
Deadly Tornadoes Tear Through U.S. State Of Tennessee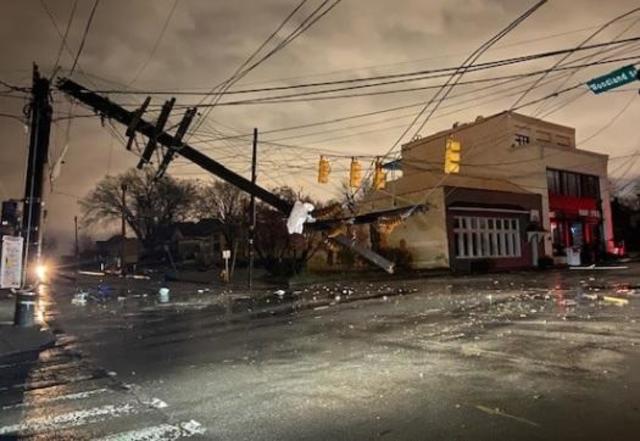 In the early morning hours of Tuesday, multiple tornadoes touched down across central Tennessee, leaving a trail of death and destruction. So far it has been reported that 25 people have been killed as a result of the twisters, but this number may rise as rescue workers comb through the carnage. This tornadic event is the deadliest in the United States since 23 people were killed in Alabama last March, and is the second deadliest in Tennessee history.
A look in the daylight at damage from the #Tornado that hit East #Nashville. This is an alley off McFerrin between Main St & Woodland in Five Points. Devastated. @WKRN pic.twitter.com/XZmi80GQq7

— Stassy Olmos (@StassyOlmosWKRN) March 3, 2020
The tornadoes came through the region while most residents were still sleeping, making them even more dangerous. The perfect blend of atmospheric dynamics came together around 1 a.m. to produce these deadly monsters. Preliminary estimates by The National Weather Service gives the tornado that tore through Putnam, Benton, Wilson and Davidson Counties an EF-3 rating, which translates to winds up to 165 mph(266 kph). That tornado may have been on the ground for an hour, carving a path 50 miles(80 km) in length.
BREAKING: The #Nashville #tornado or tornado family may have caused a 50 mile path of damage.

Detailed radar analysis suggests tornado touched down at 12:35 a.m. near John C. Tune Airport. It impacted Nashville thereafter.

Circulation finally weakened 1:33 a.m. after 1 hour. pic.twitter.com/ZYggFP58yd

— Matthew Cappucci (@MatthewCappucci) March 3, 2020
Among the areas affected by the tornadoes was the city of Nashville, which has a population of nearly 693,000. The tornado ripped right across the city's downtown, flattening businesses, overturned tractor-trailors, and caused widespread damage. Public schools across Nashville were closed Tuesday while train service was suspended due to downed power lines across the tracks. 47,000 customers across Tennessee still remain without power, which is down from 73,000 earlier in the day. Tennessee governor Bill Lee declared a state of emergency, ensuring that the state will receive federal aid.
Insane damage from the tornado. #Nashville #nashvillestrong #NashvilleTornadoes #tornadoes pic.twitter.com/87z5FMHfpn

— Max Smith (@MaximilianSmith) March 3, 2020