Posts EN
Historic Cold & Snow Grip Central and Southern U.S.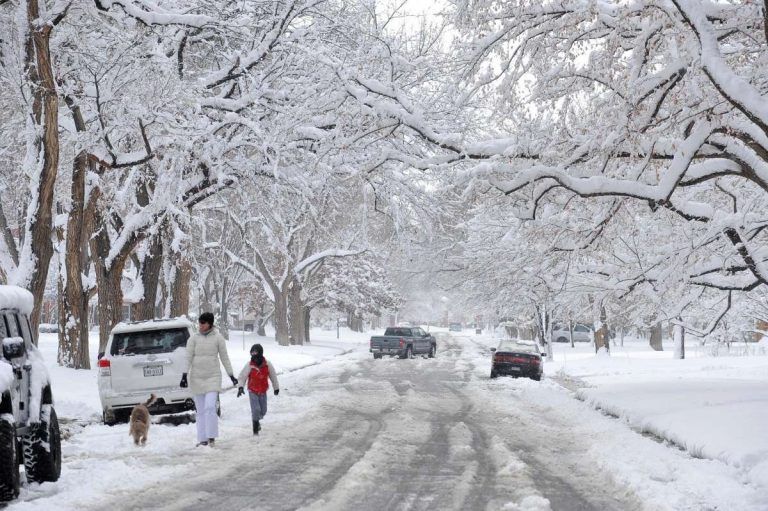 Much of the central and southern plains is currently under siege by an unprecedented outbreak of arctic air and snow. Numerous records for both snowfall and low temperatures have already occurred, and many more could fall in the coming days. A very strong area of high pressure that originated in Siberia, now centered over Minnesota, is responsible for the outbreak that has brought accumulating snow and sub-freezing temperatures all the way to the Gulf Coast.
It is mind-boggling how many records – including some records for February and even a few all-time record lows – have been broken, stretching from border to border in the Plains, Midwest and South. #ArcticBlast pic.twitter.com/mDrJ8W01Kf

— Craig Ceecee (@CC_StormWatch) February 15, 2021
Although many states are being affected by the artic blast, Texas has been dealt the hardest blow. Among the many effects of the outbreak, rolling blackouts have been numerous across the state, with over 4.2 million Texans in the dark. Texas is no stranger to extreme temperatures, but they are usually hot temperatures, not cold, as is the case now. Because of this, energy demand throughout the state has reached an all time high, thus leading to the power outages. Also, many power companies simply are unable to generate power, of any form, due to the freezing temperatures and snow.
Current #PowerOutages across the US. #IceStorm in the #Southeast and an overloaded power grid … demand brought on by extreme #cold … in #Texas. #TexasPowerOutage pic.twitter.com/7LFLSS2GUB

— Brian James (@BrianJamesWx) February 16, 2021
The infrastructure in the state is not built to withstand prolonged periods of extreme cold, which has exacerbated the effects of the outbreak. Reports of frozen and burst pipes have been very common. Many cities and towns are ill prepared for snow and ice accumulations, with many not even having snow plows, so when it does happen, even small amounts can be paralysing.
Unprecedented snow in Holcombe Blvd, 77030 Houston, Texas around @TMCNEWS @MDAndersonNews #houstonfreeze pic.twitter.com/wksPruICMP

— Vivek Subbiah, MD (@VivekSubbiah) February 15, 2021
This has proven to be the case in Houston, Texas, the nation's fourth largest city. Here the .80 inches of snow (2 cm) that fell early on Monday morning was enough to shut the city down completely. Dallas, Texas, another major city, was also paralysed after 4 inches (10.1 cm) fell early on Monday. The snow in Dallas and Houston broke daily records, but the city of San Angelo, Texas broke an all time record for snowfall, coming in with 10.1 inches (25.6 cm). Snow was also seen in coastal Galveston,Texas, an extremely rare occurrence. Lake Charles, Louisiana even reported thunder-snow, just months after being ravaged by Hurricanes Laura and Delta.
Thinking about all the moms working hard to keep their infant babies warm through this winter storm and the power black out. Stay safe Texas #TexasFreeze #texaspoweroutage https://t.co/bzSGkIwDjY

— Harini Ganesan (@harinispeaks) February 16, 2021
Texas, an oil rich state, has seen its oil production halted due to the cold and snowy conditions. The entire state has been placed under a State of Emergency, and at one point on Sunday evening, every single county in the state was under a winter storm warning. That was a first time occurrence. For many counties along the Gulf Coast it was the first time ever being under a winter storm warning. Economists predict that between the drop in oil production and the likely agricultural losses, the arctic blast will be a billion dollar disaster for the state.
This is incredible.

That purple bleeding south you see isn't from clouds – extreme #cold is expanding as night commences, tricking satellites over #Texas and #Oklahoma into thinking there are clouds.

Lake-effect snow too from Lakes Conroe and Livingston north of #Houston. pic.twitter.com/2envfn9tmt

— Matthew Cappucci (@MatthewCappucci) February 16, 2021
The central United States is currently one of the coldest places on Earth. Record low temperatures have been shattered in many states. Such places include Dallas, Texas, where the mercury dropped to 4 degrees (-15.5 C) on Monday morning and the high was only 14 F ( -10 C).While most notable in states such as Texas, the cold is more pronounced to the north. States such as South Dakota, Nebraska, and Minnesota have seen lows well below zero Fahrenheit (-17.7 C). The coldest temperature of the outbreak so far was -50 F (-45.5 C) in Ely, Minnesota, also a record low.
The arctic blast invading the middle part of the country is incredible. Temps near 0° in Dallas Tuesday morning…11° in San Antonio! And look at the -20° to -25° temps across a lot of Nebraska. Wow! pic.twitter.com/xpFCzmzezd

— Mark Searles (@NBC10_Mark) February 16, 2021
For global context … today's temp departures from avg. pic.twitter.com/l6aiZtRhq7

— Greg Postel (@GregPostel) February 15, 2021
70.4% of the continental United States is now snow covered, which is the highest since January 2011.
SNOW WAY…Current CONUS #snow cover at its highest level in a decade! Right now 70.4% of the lower 48 is covered in snow. On Jan 12th, 2011, 70.9% of the nation was blanketed. % has nearly tripled in last month. #winter pic.twitter.com/Im8aW5azYS

— Dan Peck (@danpeckwx) February 16, 2021