Posts EN
Deadly Hurricane Ida Rips Across Southeast Louisiana with Catastrophic Winds and Flooding!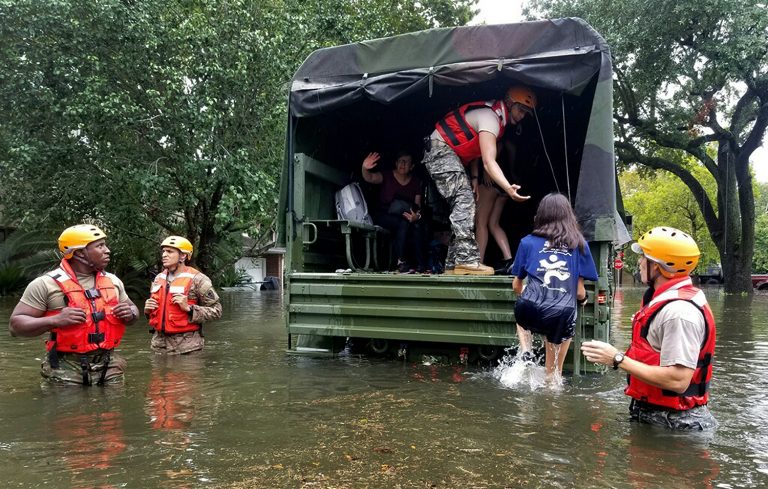 Hurricane Ida slammed into Louisiana on Sunday, a Category Four storm that brought destructive storm surge and slashing high winds. New Orleans, home to nearly a million residents, is totally without power as the city's main power transmission station was blown into the river. Historic buildings like the Karnofsky Music Store were leveled by the high winds. Closer to the landfall point of Port Fourchon, Louisiana, a storm surge as high as 16 feet (4.9 m) inundated homes and businesses, trapping people in their attics or forcing them onto their roofs. A ship at anchor just offshore reported wind gusts up to 172 mph (277 kph) as Ida made landfall. Numerous other reports of gusts well in excess of 100 mph (160 kph) with major damage were received across the region.
NEW VIDEO: The historic Karnofsky Music Shop in New Orleans has collapsed. It was no match for the winds of Hurricane Ida. Video from @JackRoyer. So so sad. 😪 pic.twitter.com/42BpfaenLc

— Ed Bloodsworth (@WKRGEd) August 30, 2021
Watch: Powerful Hurricane #Ida rips through Lafourche Parish, #Louisiana in this video provided to CBS news https://t.co/95Q6wDLKw3 #KHOU11 pic.twitter.com/YceyHChyjA

— KHOU 11 News Houston (@KHOU) August 30, 2021
FLOODING in NOLA: Look at this in Venetian Isles in @CityOfNOLA. This is one area in New Orleans under a *mandatory* evacuation. Venetian Isles, Lake Catherine & Irish Bayou; areas outside the levee protection system. Water is almost up to the stop sign 🥺 @wdsu #HurricaneIda pic.twitter.com/RQ8uMwpWRJ

— Christina Watkins (@CWatkinsWDSU) August 29, 2021
Hurricane Ida came ashore exactly on the 16th anniversary of Katrina, a storm of similar intensity that made landfall just a few miles to the east. Katrina's surge overwhelmed the levee system that protects the low-lying New Orleans metro area. The resultant flooding cost of hundreds of lives and helped make Katrina the costliest hurricane on record. In the wake of this disaster, federal officials spent billions upgrading the levee system. It appears that those efforts have paid off with the Louisiana governor reporting no dam failures or surge flooding in the city.
The satellite images of hurricanes always baffle me how massive they are. Here's a look at Katrina (left) and Ida (right) #Hurricanes pic.twitter.com/CfubG6YBxA

— Curtis Quinn (@CurtisQuinn07) August 30, 2021
Ida has claimed at least one life so far, but the death toll may rise as floodwaters gradually recede and officials start the long cleanup process. Several hospitals sustained extensive damage and are relying on generator power. Power company officials predict that it could be several weeks before the grid is restored. This is a critical situation as Louisiana has been particularly hard hit by the latest COVID surge and hospital ICU's are already overwhelmed.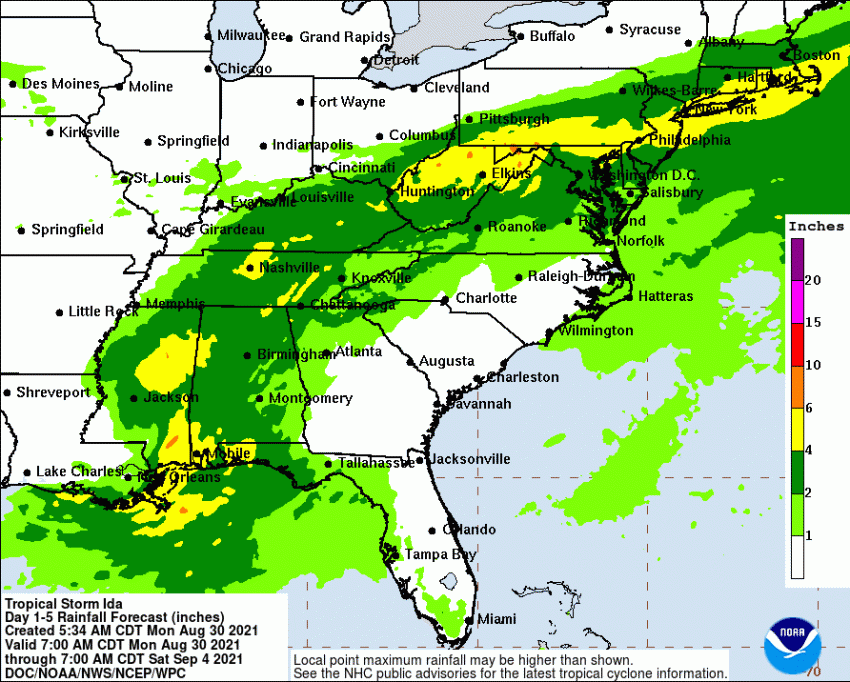 Ida is steadily weakening as it moves north through Mississippi. The remnant storm will accelerate and turn towards the northeast with the main threat now being torrential downpours. Areas of the Urban Corridor from Washington, DC through New York and Boston will see several inches of rain (up to 100-150 mm) from Wednesday into Thursday, leading to localized flooding. Lead photo courtesy National Guard Bureau.